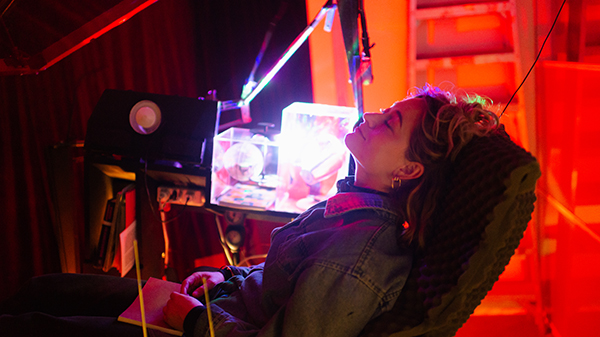 Photo by Caroline Aravicius, from one of the 31 people that took a trip in Mediamatic.
UPDATE December 31st:
The Orgasm Machine is going on tour in August/September 2022. Dates will soon follow!
----------------------------------
UPDATE November 9th:
Due to Corona there has been some changes, check this under
RESERVE A TRIP
. But the machine is almost finished. Last 10 days have been hectic and amazing. A lot of people have donated materials, music and a lot of stories also, you can look at some images from the pick ups under
DONATE MATERIAL
. Hope to see you at Mediamatic!
----------------------------------
Eva Schippers is going to build an orgasm Machine in 12 days with found and donated materials. If you want to DONATE MATERIAL please contact us, we will drive around Amsterdam during the project to collect [the first pick up date is August 8th]. The orgasm machine will be part of the BEFtival at Mediamatic: a 10 days festival celebrating female pleasure. Alongside the machine Sam Nemeth presented his project, titled Lick Locus. Two experiences, one for her, one for him.
What is the border between torture and pleasure? An Orgasm Machine, build in the tradition of Barbarella [1968], Woody Allen movies [1973] and the pseudo-science of Wilhelm Reich [1930] with a soundtrack made by the Amsterdam musicians Pasjenten [MMIO]. During the festival women were invited to have a private experience in the Orgasm Machine, after the artist gave an introduction and demonstration. The artist intends to take the machine on tour in August 2022, continuously altering and developing the machine through dialogue and shared experiences.
Since the experience itself is private, the artist made a pilot to give an idea of the performance: CLICK here.
A workshop and meetingplace from an artist, tinkerer, a person who loves most to build, think and talk simultaneously. RESERVE A TRIP and become part of this temporary world, vision or mad workshop, however you wish to see it: +31 6 45726428.