PROJECT EVA builds a lighthouse
8-18 September, 2022 Strandlab, Almere
During a building period of 10 days artist Eva Schippers builds a 6,5 meter lighthouse at Strandlab Almere with donated and found materials. Since 2020 Schippers builds her installations with donated and found materials: This started with the build of a spaceship in the Vondelbunker in Amsterdam, and has become an important part of her practise.
The building period is almost over and from September 8 the lighthouse will be open for the public! If you want to stop by you can make an appointment:
CLICK TO RESERVE A TRIP
SEE HERE WHO DONATED
Thanks everyone for donating and make the ligthouse happen!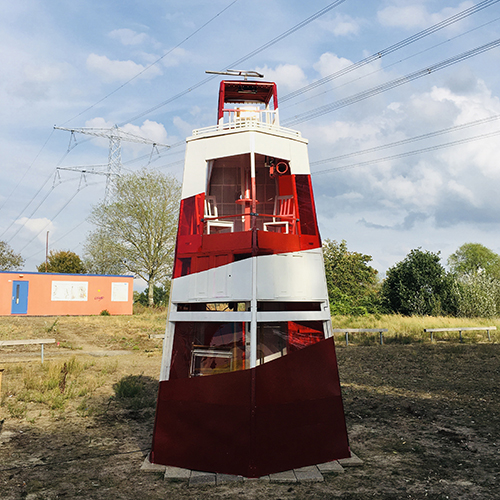 HISTORY: In the end of 2021 the top of this lighthouse was build, the command centre, during a project of The Culturele Stelling Amsterdam in April 2022. This lighthouse, together with 12 other art installations, drove through the city of Amsterdam on flat carts as protest against gentrification. During the build of this command centre Eva Schippers contacted Strandlab Almere to continue building and working on this project. At Strandlab she will elevate the installation with a 2/3 meters stairs.